Comfrey – Varicose Veins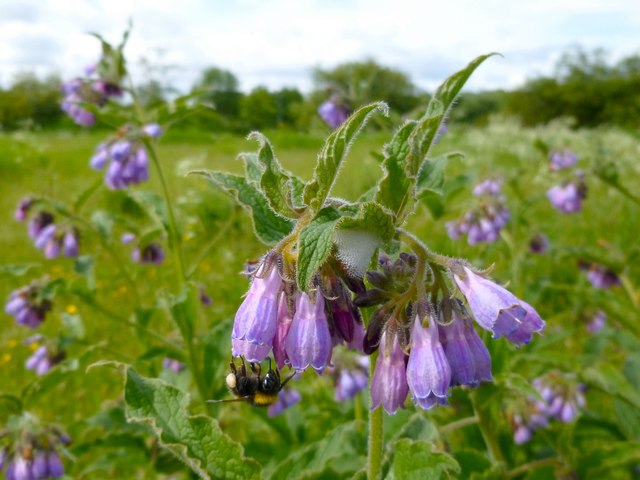 Comfrey is known to be a potent healing remedy. You can even fuse this with witch hazel (an astringent known to be good for the skin) and you can have a healing formula perfect to use on varicose veins.
It's often recommended that you take some comfrey and chop it before grinding it in a blender with at least half a cup of witch hazel. Mix these together into a thick solution for a poultice. Then use a rag or clean cloth to hold the mixture and make it into a compress that you can wrap around your leg. Let it sit for 4-6 hours, or even leave it overnight.
Comfrey – Bone Fractures
Apart from ts benefit of helping treat superficial wounds, comfrey oil has been applied to fractured bones or torn ligaments in areas of the body where it is not possible to place a cast on, such as on the ribs.It can be applied directly to your skin or in the form of a poultice, promoting faster healing. It's also been said that comfrey can help reconstruct torn muscles that may have been injured.
Comfrey – Skin Rashes
Comfrey is also a powerful remedy when it comes to dealing with skin rashes. However, extra caution should also be taken into consideration when it comes to deep wounds – the oil can help heal the skin so quickly that the brand new tissues may cover the wound before deep healing inside occurs, resulting in an abscess or skin infection.
There are a few warnings against the use of comfrey on broken skin due to the harmful substances that may still be absorbed.
Comfrey – Wounds and Scars
Comfrey is commonly used for healing wounds, preventing scars and even treating the ones you have right now. It can also help decrease dryness and flaking of the skin.
Comfrey – Sprains and Broken Bones
Comfrey has been proven to work as an anti-inflammatory, an analgesic, and an aide in the healing of broken bones and sprains.
Comfrey – Atopic Dermatitis, Psoriasis, Eczema
Comfrey is a herbal remedy that's been known to demonstrate its effectiveness in treating atopic dermatitis, psoriasis and eczema.